Part 1
Brought to you Bart Hertog, Embedded AMS
Introduction
The fourth industrial revolution is here, and an entirely new-generation of wireless communication technology has made interaction with the internet-of-things (IoT) more prevalent than ever before.
IoT interconnects a series of devices to a network that readily shares information, transmitting data that allows humans and machines to interact freely with each other. Connectivity in IoT is all-important. It incorporates connectivity for wireless Bluetooth, Wi-Fi and wired connections like Ethernet cables. So, IoT devices are developed with a wide range of capabilities.
Selecting the most suitable connectivity technology is one of the most critical decisions any enterprise will make in their IoT launch strategy, because connectivity is an integral part of their ultimate end-to-end IoT solution.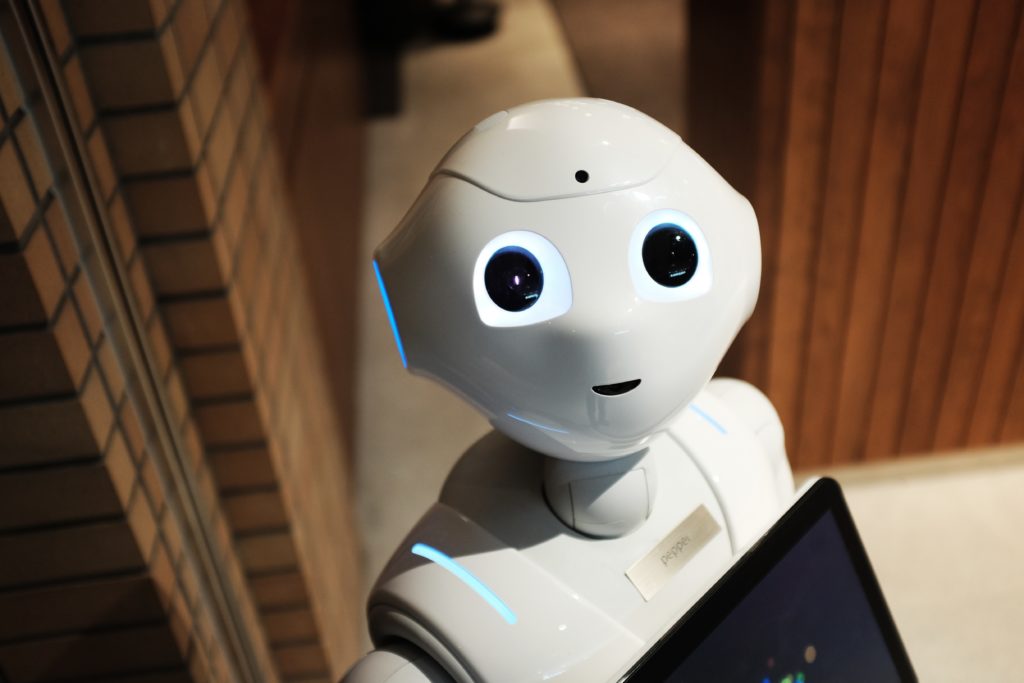 Selecting the right communication method is based on several factors, including the distance or range of the connection, connection speed and the device's power consumption rate.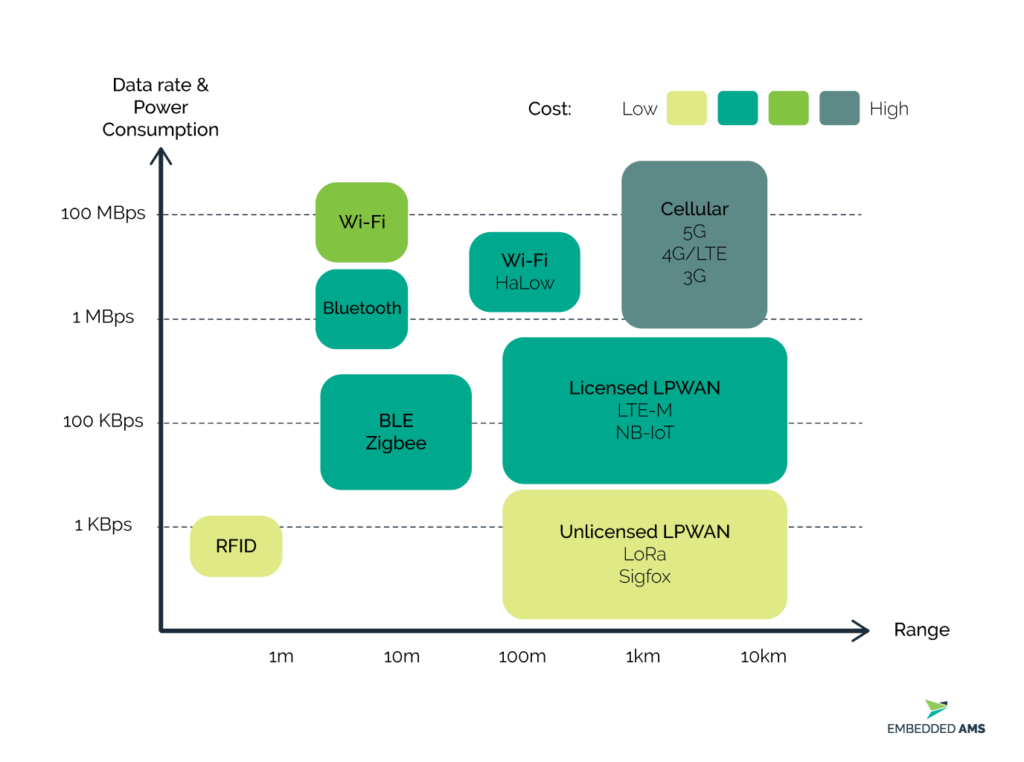 Our series of articles discusses the various data connection methods available and will help clarify which connection type should be used in each scenario, based on the circumstances.
The different communication methods
Method 1- Wi-Fi
Standard Wi-Fi is highly effective and can be easily leveraged for certain IoT applications, like in-building or campus environments. Familiar and obvious cases include standard building and home automation processes and in-house energy management, where
Wi-Fi becomes the communication channel and devices are connected to electrical outlets.
The pros and cons of Wi-Fi as a communication method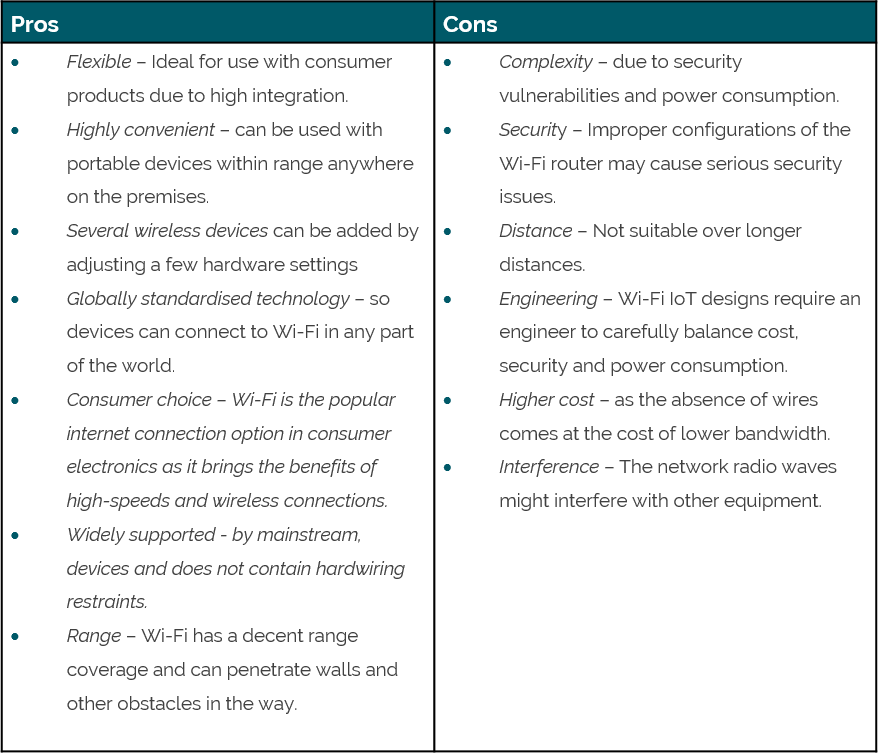 Wi-Fi Communication Standards
There are numerous wireless connectivity options available for IoT, and Wi-Fi stands out in its own unique way. Wi-Fi technology is built based on IEEE 802.11 standards (standards set by the electrical engineering governing body, the Institute of Electrical and Electronics Engineers (IEEE). It features native IP addressability and scalable data rates to optimise power consumption.
Wi-Fi devices typically use more electrical power in comparison to Bluetooth devices, which have lower power consumption; however, Wi-Fi still remains the single IoT connectivity technology with the highest throughput and capacity, which can address any needs in your IoT deployments. There are plenty of Wi-Fi devices on the market and even more are in development. Ultimately, Wi-Fi is a perfect fit for interconnecting devices.
Data Transmission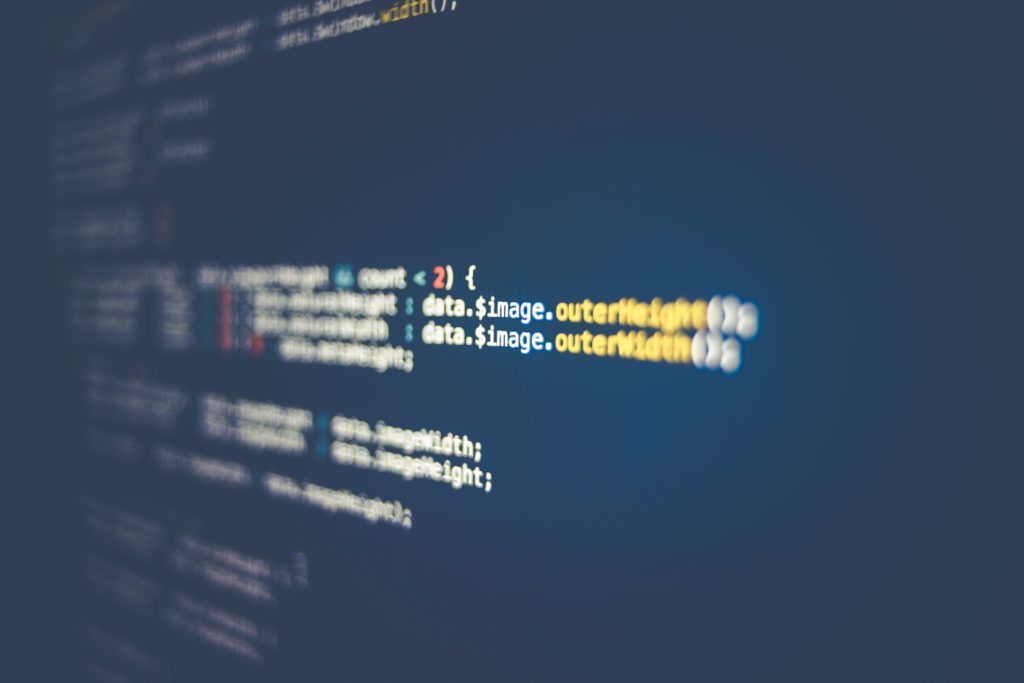 Data transfer in Wi-Fi connectivity happens at maximum speeds of 54 Mbps at ranges defined by the 802.11b standard. Many factors determine the Wi-Fi range, including transmission power, location of use and antenna type. The average workable range for Wi-Fi is 50-metres indoors, and about 90-metres outdoors, for which the fastest Wi-Fi performance standard 802.11ac version is necessary.
This version delivers speeds ranging from 433 Mbps up to 1300 Mbps on the 5 GHz band and up to 450 Mbps on the 2.4 GHZ band. To achieve these speeds, the newer 802.11ac, operates on 2.4 GHz and 5 GHz bands, making use of technology called "beam-forming", which is capable of sending signals directly to client devices. The cost of this higher band is a lower, with a better range and the ability to penetrate through objects and walls.
Required hardware
Hardware requirements for Wi-Fi include:
WiFi capable chip – Your IoT device needs a Wi-Fi enabled chip. These chips are often integrated within a microcontroller. You do need to make sure of the requirements on the antenna.
Wireless access point – To create the wireless local area network (LAN), you need to be able to access a wireless network. It may be an existing or newly installed home or corporate network.
Required software
Various software programmes and solutions are available on the market to connect to Wi-Fi, however, each one has its own drawbacks.
WPS Wi-Fi Protected Setup: allows the use of a button on the router to configure the Wi-Fi.
The drawback: required router hardware support and potential usability and security issues.
The TI's SmartConfig can "automatically" set Wi-Fi credentials from a mobile application.
The drawback: lack of hardware support and security concerns.
An "Access Point Mode" of Wi-Fi hardware could be used.
The drawback: usability issues, especially with mobile applications, lack of hardware support, and application complexity.
Wi-Fi direct is a possibility.
The drawback: includes hardware support requirements on both the mobile device and IoT hardware. Wi-Fi direct is supported on limited Android hardware platforms and is not available on iPhone.
Wi-Fi Use Cases
Wi-Fi is typically selected for indoor and small deployment applications where you have control over the Wi-Fi network. The technology is now almost ubiquitous and is preferred when you don't want to invest a vast amount in infrastructure and devices with low barriers.
Wi-Fi is not always a feasible solution for connecting IoT end devices because of its major limitations in coverage, scalability and power consumption. Instead, it performs as a back-end network for offloading aggregated data from a central IoT hub to the cloud, especially in Smart Homes. Critical security issues often hinder its adoption in industrial and commercial use cases.
Wi-Fi use cases include various indoor IoT devices such as:
Residential security devices:

Smart door locks, as well as monitoring (i.e. gas and carbon monoxide monitors) and detectors (such as smoke detectors) etc.

Smart Home solutions:

HVAC (heating, ventilation and air conditioning)

Voice recognition-enabled electronic appliances and cooking devices

Smart metering, including for water and electricity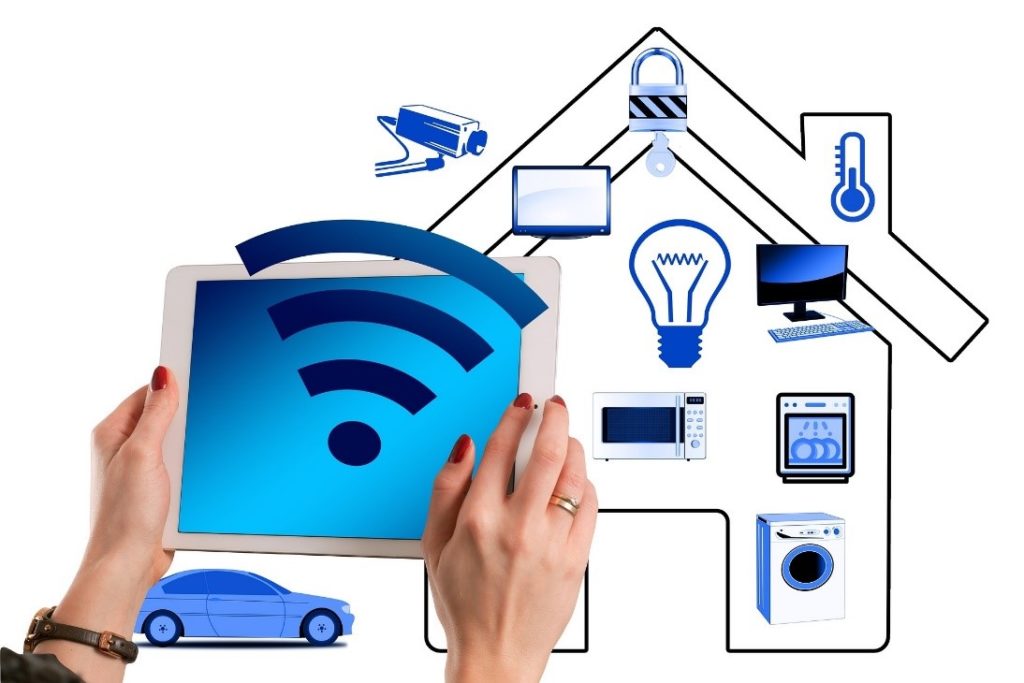 Licensing and certification
Short range devices (SRD) – with a range lower than 1 GHz, often benefit from a relaxed regulatory regime compared with radio communication equipment. As a general principle, a user can operate this equipment license-free, though some specific cases may require a license. Like radio equipment, short range devices have to meet the Radio Equipment Directive (RED) to be put onto the market in the European Community. The operation of the equipment is subject to the frequency management regulations of the relevant member state.
Wi-Fi Certification
It is also highly recommended that you certify your IoT device connecting or transmitting with Wi-Fi through the Wi-Fi alliance.
Patent Lisencing
Manufacturers of IoT devices with Wi-Fi capability could apply for patent licensing under the joint licensing program*.
*Where can I find more information?
Wi-Fi Certification
Worldwide Frequency Allocations Below 1 GHz
Patent Licensing
The bottom line
The heart of the Internet of Things is the idea of seamless connectivity – multiple devices collecting and transferring data to one another, to a cloud and to people who use data-driven insight to make important decisions.
Experts predict that by 2020, anywhere from 20 to 50 billion devices will be connected and have active components in their respective IoT ecosystems. This exponential growth requires that connected devices demonstrate a high level of compatibility, reliability, and security.
Choosing the right IoT connectivity protocol for your business or connected project is an important decision. You must consider the advantages and disadvantages of each communication protocol before moving forward with your project. Taking the time to become acquainted with the best ways to connect will save you a lot of headaches and heartache down the road.
Follow us to read the rest of the series: www.linkedin.com/company/embeddedams OR read more on our blog www.embeddedams.nl